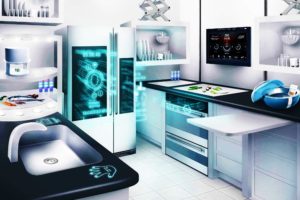 If you're considering a kitchen renovation, consider adding high-tech features to make the space timely and timeless.
Cut The Cords – There are many appliances that are now wireless and compatible with smart countertops. Plus, a wirelss kitchen reduces the number of cords, which is extremely important near kitchen sinks.
Find a digital hub to manage your kitchen – Download apps that can help you take control over your kitchen by using voice commands or allowing you to directly turn on your oven remotely or access videos with step-by-step directions.
Make sure your new appliances are Wi-Fi enabled – Appliances that can connect to the internet are the future, and some companies believe traditional appliances will become outdated. Connectivity, for example, allows ovens to control the baking for you.
Consider a wireless charging countertop – Wireless charging countertops may become the "new quartz." When choosing a countertop, it may be a smart idea to skip the stone and opt for smart countertops that charge your devices.